The Whynter Built-in undercounter wine refrigerator offers premium quality and innovative design ideal for your wine collecting needs. Whether for the enthusiast or the connoisseur, the Whynter built-in undercounter wine refrigerator provides affordable yet advanced wine storage functionality. This Whynter single zone wine storage system (BWR-33SD) can hold up to 33 standard 750ml wine bottles. The powerful compressor cooling system offers optimum temperature (high 30ºF to mid 60ºF) for red, white, and sparkling wines. The front ventilation design of this unit allows for flush with cabinet undercounter installation or simply freestanding usage.
The premium appeal of the BWR-33SD features an exclusive stainless steel trimmed door and a heavy stainless steel L-bar handle. The seven removable stainless steel trimmed wood racks in the unit allow for maximum storage capacity.

Model: BWR-33SD
Capacity: 33 standard 750ml wine bottles
Stainless steel trimmed glass door with sleek black cabinet
Luxurious stainless steel L-bar handle
Tempered double pane gray-smoked glass for enhanced UV protection
Digital LED temperature control with temperature range from 40ºF - 65ºF
Soft interior LED lighting with on/off switch
Slim 15" width perfect for undercounter installation
Powerful fan-circulated compressor cooling ensures even temperature distribution
Auto defrost
Optional humidity control tray
Activated carbon filter
Security Lock and key
Fahrenheit and Celsius degree temperature indicators
Seven removable flat slide out chrome shelves
Top shelf: 5 bottles capacity (if humidifying tray installed, 4 bottles)
Shelf Two through Six: 5 bottles
Bottom shelf: 3 bottles
Voltage: 115V /60Hz
Power: 130 watts / 1.6 Amps
ETL listed
Product dimensions: 34"H x 14.75"W x 24.25"D (Add 1.8" in depth with handle installed)
Package dimensions: 39"H x 19" W x 27"L
Net weight: 80 lbs
Gross weight: 89 lbs



*This unit comes with one year limited warranty.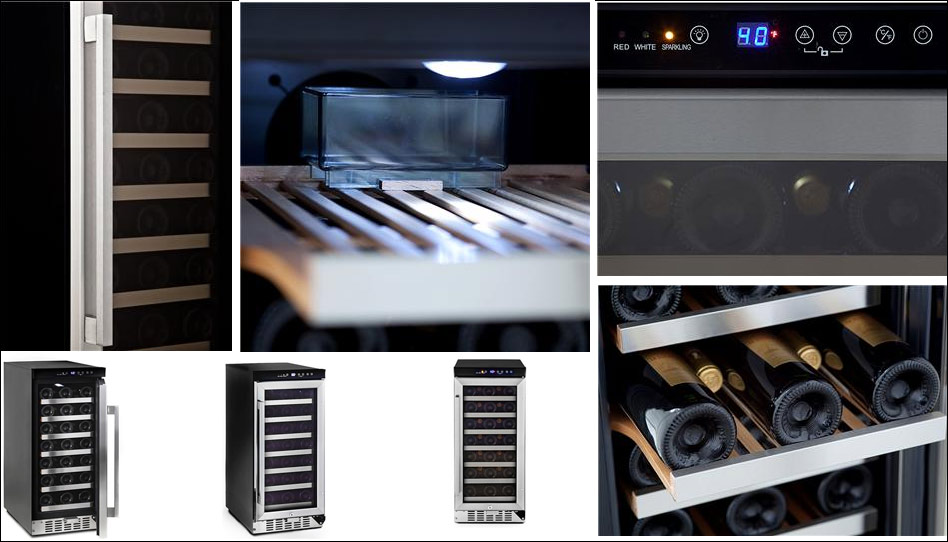 RETURN POLICY
Quality is our #1 goal. If a product does not meet our strict quality control standards, we will not sell it. We want you to be satisfied with your purchase. It is our policy to do everything we can to make our customers happy. We strive for 100% satisfaction. Because your satisfaction is our number one priority, we will do what it takes to ensure your experience with KINGERSONS a positive one.
But out of thousands of units sold every year, there maybe some instances that the product you received is defective. We have the following policy for such situations:-


DEFECTIVE EXCHANGE
If unit (any product) is defective, we will gladly make an exchange. We will have it picked up and send a new replacement, at our cost. You will not pay a single cent. Exchanges will only be made with the same model - if customer upgrades or downgrades to a different model, we'll treat it as a return and new order.
RETURNS
If customer does not want exchange and wants to return it instead and wants a refund, customer is responsible to ship unit back to our warehouse at their own expense; restocking fee of 18% will apply regardless if defective and original shipping and handling fee ($148/per unit) will not be refunded. Usually there should be no reason for returns, if there is any problem with the product we will exchange it with a BRAND NEW product at no extra cost to you. Once product(s) is/are shipped, all Packages Refused are considered as returns as well and return policy will apply at the time of refund.
* All returns and exchanges must be requested within 15 days after the receipt of the product. *
If you decide to return the product for ANY reason, you should request an RA# (Return Authorization number). For complete return instructions (if and when required) contact our office for assistance.
CANCELLATIONS
If you placed the order and you wanted to cancel the order BEFORE IT IS SHIPPED, we will gladly cancel your order and $15.99 cancellation fee will be charged and credit card processing charges will not be refunded. Please make sure that you call us within few hours after the order is placed. We ship the items out same or next business day. We cannot process cancellations after the product is shipped out. It will be considered as a return instead once the product is shipped and you will need to pay the return charges.
We want you to be happy with your purchase from us. We truly appreciate your business and continue to do our best to earn your trust with each transaction.
100% Satisfaction is guaranteed with all your purchases. In case any of the RARE complications occur, we will handle them upto your best interest and satisfaction.